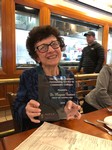 Maryrose Eannace, Ph.D., Mohawk Valley Community College Vice President Emerita, has been honored by the National Council of Instructional Administrators as recipient of the Outstanding Service to Community Colleges Award, which was renamed this year in her honor.
The Maryrose Eannace Outstanding Service to Community Colleges Award honors community college leaders who are committed to and advocate for the mission, vision, and goals of community colleges on the local, state, and national levels.
"Maryrose is an amazing spirit who has a lasting influence on others," said MVCC President Randall VanWagoner, Ph.D. "This recognition is so well-deserved. Her commitment to service and advocacy for community colleges is unwavering. She truly believes that community colleges are the strongest form of democracy in higher education, and her work has helped MVCC emerge as an innovative leader in the community college movement."
Eannace served as MVCC's vice president for Learning and Academic Affairs from 2008 until her retirement in July 2018. During her tenure, she led the academic unit in a major re-organization and responsive re-design to better serve student and community needs. She worked with faculty and other members of the College and wider community to develop programs and partnerships in such areas as developmental education, honors programming, and seamless transfer initiatives. Eannace served as an Executive Board member of the National Council of Instructional Administrators and as a Commissioner on the Academic, Student and Community Commission — both affiliates of the American Association of Community Colleges. Locally, she served many years on the Board of Student and Business Alliance (SABA), a BOCES program.
She was honored by the Utica YWCA in their Salute to Outstanding Women in 2015, was recognized by the Vision to Plant Foundation in their Recognition of Service Award in 2016, and was recognized by Phi Theta Kappa with their Distinguished College Administrator Award, an international distinction based on outstanding support provided to Phi Theta Kappa.
Eannace came to MVCC from Skagit Valley College in Mount Vernon, Wash., where she served as academic dean. Before her work in Washington, she taught English, speech, and theater at Cazenovia College, where she also served as director of theater and as division chair for Humanities, Natural Sciences, and Education. She also taught English courses at Pratt at Munson-Williams-Proctor Arts Institute in Utica. Prior to her academic work, Eannace served as the founding director of the Interreligious Food Consortium in Syracuse and as a director of retail services and as national training supervisor for Revlon, Inc.
"Maryrose is such an amazing woman and leader," said Katherine Wesley, Ph.D., executive director of the National Council of Instructional Administrators and assistant professor of practice in the Department of Educational Administration at the University of Nebraska-Lincoln. "She has been a longtime supporter of NCIA and the work of community colleges. When we learned she was retiring, the board decided immediately to honor her and her work on behalf of community colleges by renaming our original award in her honor. We all have such respect and admiration for her strength, resolve, experience, and humor, and have all grown from her perspective and wisdom."
The National Council of Instructional Administrators, an affiliate council in the American Association of Community Colleges is dedicated to supporting the needs of community college academic administrators through professional development, and serving as a national voice in policy planning and decision making. It is housed at the University of Nebraska at Lincoln and works in cooperation with the community college leadership program at UNL.
Mohawk Valley Community College, established in 1946, is New York State's first community college with a mission to provide accessible, high-quality educational opportunities for everyone. As the community's college, MVCC is committed to student success through partnerships, transfer and career pathways, and personal enrichment. With campuses in Utica and Rome, MVCC is the region's primary provider of college education, offering 90 degree and certificate options for its enrollment of 6,000 full- and part-time students. MVCC also serves an additional 6,000 people through its corporate and community education programs, and its campuses welcome more than 50,000 people annually for community events.